Donald Trump Gets Trumped by Attorney General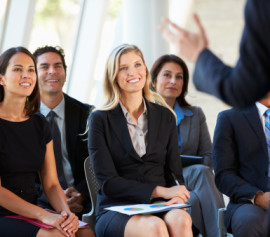 Donald Trump and his for-profit "Trump University" allegedly bilked New York residents by selling them with "get rich quick schemes" of pricey but largely useless seminars and mentorship programs, according to a lawsuit recently filed by New York Attorney General Eric Schneiderman.
In advertisements and direct mail solicitations Trump University promised prospective students that they would learn detailed information on how to close real estate deals based on Trump's "trade secrets" taught by his "hand-picked" instructors, as well as access to lenders willing to finance deals.
But Trump had little or no role in developing course content, and did not select instructors, according to the suit. Instead of ready access to lenders, students were given a photocopied list of commercial lenders from a magazine.
Attorney General Schneiderman alleges that Trump University instructors would pressure students at initial seminars to pay for more expensive one-on-one mentoring programs to get the "full benefit" of the program. However, the course instruction was typically generic, and mentors were often unavailable or unresponsive.
The unfilled promises left many New York residents, thousands of dollars in debt and nothing to show for their investments and efforts to land real estate deals, Attorney General Schneiderman claims. The New York Attorney General is seeking $40 million on behalf of the defrauded former students.
Immediately after the lawsuit, not unsurprisingly, Trump launched a vitriolic public attack against Attorney General Eric Schneiderman, on Twitter, television news shows and in the press. He attacked Attorney General Schneiderman as "a "lightweight hack" motivated by "thug politics" to file the lawsuit.
Trump of course denied any wrong doing, and he claims that his for-profit school has a 98 percent approval rating from former students.
Attorney General Schneiderman ("AG") responded in an op-ed article in the New York Daily News. The AG countered that students were "hounded" by instructors to provide favorable ratings, and that his office had received numerous complaints from former "Trump University" students.
The high profile lawsuit is part of the AG's ongoing investigation into for-profit colleges. One school, Career Education Corp., reached a $10 million settlement after admitting it misled students by inflating its job placement rates, according to Schneiderman.
Before investing their hard-earned money, New York consumers should view entities offering "get rich" schemes with a healthy dose of skepticism, and investigate the details of a program. Companies can employ slick marketing pitches and high-pressure sales techniques, but as the time-honored adage says, if it sounds too good to be true, it probably is.
Two good sources for company information and consumer complaints is the New York Attorney General's Bureau of Consumer Frauds and Protection, and the New York Better Business Bureau.
The New York Better Business Bureau just recently posted a warning to New York consumers on attending "house flipping" seminars. The Better Business Bureau cautions New Yorkers to research house-flipping opportunities, ignore high-pressure sales tactics, and carefully review a contract before signing anything.
For more than 30 years, Attorney Michael H. Schwartz has been providing solutions to financial problems. If you are facing financial difficulties because of consumer debt, contact the debt relief firm of Michael H. Schwartz, P.C., at 800-666-9743 or Michael@NYLegalHelp.com for assistance. We are rated A+ by the Better Business Bureau. We are here to listen and to help.