Fighting Back Against Banks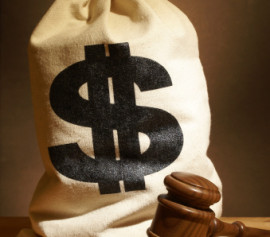 The White Plains consumer bankruptcy law firm of Michael H. Schwartz, P.C., received national attention in the fall of 2013 for a case in which the firm helped its clients take on one of the country's "Big Four" banks – Bank of America, N.A.
Media outlets that have highlighted the case include:
You can also read more about the case by checking out the September 19, 2013, and October 9, 2013, press releases issued by the firm:
In the case, bankruptcy attorney Michael H. Schwartz obtained sanctions against Bank of America due to its unlawful attempts to collect a discharged debt.
According to the New York Times article, Mr. Schwartz's clients owned a condominium in Tampa, Florida, which had a first and second mortgage through Bank of America. They hired Mr. Schwartz to file for bankruptcy in 2010 and had both mortgage debts discharged.
However, in the spring of 2012, the borrowers began receiving demand letters from Bank of America, telling them that their second mortgage for $27,000.00 was "seriously delinquent" and that the bank would take collection action if the debt wasn't paid immediately.
Although the borrowers told Bank of America that the mortgage debt had been discharged in bankruptcy, the bank wasn't interested. According to Mr. Schwartz, the harassing debt collection practices continued with letters every month and phone calls every day. Bank of America even sold the servicing rights to one of the mortgage debts to another lender, and the borrower's nightmare doubled.
Mr. Schwartz went back to court to make Bank of America stop its illegal collection tactics. He brought the matter before the Honorable Robert D. Drain in the U.S. Bankruptcy Court for the Southern District of New York.
Judge Drain found Bank of America in contempt of the debt discharge order protecting the borrowers and ordered Bank of America to pay the couple $10,000 a month in sanctions until Bank of America corrected its actions.
"This is not just a stupid mistake by the bank. This is a policy," according to Judge Drain.
Mr. Schwartz has represented numerous clients in similar circumstances:
"This problem is nationwide. I truly believe that banks are making a conscious decision that it is less expensive for them to pay sanctions than to change their internal policies. However, the law is the law. The bank's conduct is simply illegal and will not be tolerated by me."
Contact us For More Information
If you would like to schedule a media interview or have questions about seeking debt relief, filing for Chapter 7 bankruptcy, Chapter 11 bankruptcy or Chapter 13 bankruptcy or putting an end to abusive debt collection practices, call White Plains consumer bankruptcy lawyer Michael H. Schwartz at (800) On My Side or contact Michael H. Schwartz, P.C., online today.