White Plains Bankruptcy Attorney Supports Local School Project 'The Magic Maker'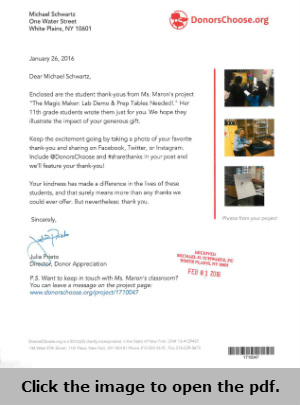 A teacher at a small public low-income high school on Manhattan's Lower East Side who decided to rely on DonorsChoose.org to seek funds for her classroom's needs has received financial help from White Plains bankruptcy attorney Michael H. Schwartz.
The teacher, Liz Maron, titled her project "The Magic Maker." Her students needed two mobile lab tables with chemical-resistant tops to prevent fires during chemistry demonstrations.
The project reached its funding needs when Mr. Schwartz donated the entire money Ms. Maron's classroom still needed. Mr. Schwartz is not only committed to helping New York consumers who have questions about filing for bankruptcy or seeking a foreclosure defense or loan modification advocate. He is also dedicated to his community and to providing for the educational needs of students in the region.
About 'The Magic Maker' and Support from Mr. Schwartz
What is The Magic Maker project all about? Ms. Maron's school serves a diverse population of about 350 students who come from all five boroughs of New York City. Given the small size of the school, its members have formed a close-knit community. Ms. Maron's school focuses on preparing students for college success, as well providing them with necessary skills to thrive beyond the academic environment.
Ms. Maron's classes focus on appealing to the "intellectual curiosity" of her students, which is part of what makes them so successful. In order to develop projects and teaching demonstrations that do this, the class needs supporters like Mr. Schwartz.
When Mr. Schwartz found out that Ms. Maron's classroom needed new supplies to make chemical demonstrations safe, he knew his involvement was critical. Like Ms. Maron, the White Plains consumer protection attorney acknowledged that each day in a science class should be a lab day. A lack of supplies should not prevent students from engaging in laboratory experimentation.
Through Mr. Schwartz's donation to The Magic Maker project, Ms. Maron was able to acquire the mobile laboratory demonstration tables she needed to prevent dangerous chemical spills and to fill her classroom with exciting new equipment for eager students.
Local Attorney Helping Local Schools
After donating to the important project. Mr. Schwartz commented on his participation. "In a normal world, raising funds to help students would not be needed. But since we live in a world where priorities are often skewed, this is the least I can do," he said.
In response to the generosity of Mr. Schwartz and other supporters of the project, Ms. Maron voiced her gratitude. "Thank you for helping me provide a safer, more engaging experience for my students. I'm amazed and humbled once again that you all responded so quickly to this project. It takes time, energy, and especially funding to teach science. We show up early in the morning to prep materials and leave later than most after cleaning it all up. At small, low-income schools there is no lab technician to take on these responsibilities. Having proper resources is critical to student success," she said.
Michael H. Schwartz is pleased to help educational projects like The Magic Maker in his efforts to support the greater New York community. If you have questions for a New York consumer protection lawyer, do not hesitate to reach out to our firm. Contact Michael H. Schwartz, P.C. to learn more about how we can assist you.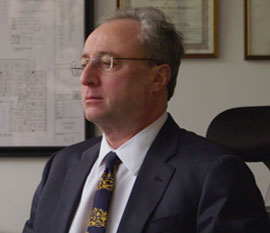 Michael H. Schwartz is the largest filer of bankruptcy cases for people living in Westchester and Rockland counties in New York. A graduate of New York Law School, Michael has been licensed to practice in New York State courts since 1983. He is also licensed to practice in the U.S. Bankruptcy and District Courts for the Southern, Eastern and Northern Districts of New York and the District of New Jersey as well as the Second Circuit U.S. Court of Appeals. He is a graduate of Max Gardner's Bankruptcy and Veterans' Boot Camps. Several media outlets have reported on his cases or sought his insights, including The New York Times.