Commercial Bankruptcy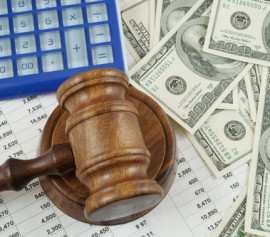 A business may also find itself in the difficult position of not being able to pay its debts. One viable alternative for a business experiencing severe financial problems is to file for bankruptcy, which is a legal process overseen by federal law. The process is supervised by a federal bankruptcy court that frees the business from having to pay some or all of its debts. While bankruptcy can provide a new financial beginning, it also has consequences for a business's credit and can even lead to the business's termination. Thus, it is important for any business owner with financial difficulties to consult an experienced attorney for advice about bankruptcy.
Bankruptcy Choices for Businesses
There are two main types of bankruptcy for which a business can file: Liquidation and Reorganization. Under the U.S. Bankruptcy Code, businesses can file for liquidation under Chapter 7 or for reorganization under Chapter 11. Businesses can also file for reorganization under Chapter 13, but its provisions apply in very few situations. Businesses can also be pulled into bankruptcy involuntarily by their creditors, though there must be merit to the creditors' claims.
Chapter 7
Also known as Liquidation, is more commonly used by individual debtors, though it can be used by businesses that are willing to liquidate their assets in order to gain debt relief. Bankruptcy under Chapter 7 begins when a business files a petition with the bankruptcy court, which then issues an "automatic stay." This means that creditors must stop all collecting against the business and its assets. The court appoints a trustee that handles the details of the bankruptcy and sells business assets to pay as much of the debt as possible. Our Chapter 7 Bankruptcy FAQ addresses common questions and concerns for businesses contemplating filing Chapter 7 bankruptcy.
Chapter 11
Reorganization under Chapter 11 is a commonly used alternative for business debtors because they are allowed to continue working while the bankruptcy is pursued. However, they may only operate in their ordinary course of commerce and any transactions outside of that ordinary course must be approved by the bankruptcy court.
A proceeding under Chapter 11 is started by filing a petition, which, like filing under Chapter 7, stops creditors from trying to collect their debts. Unlike Chapter 7, a trustee is not automatically appointed, but in rare cases, the bankruptcy court may choose to appoint one.
Businesses seeking relief under Chapter 11 file a proposed plan of reorganization that explains how they plan to continue on while still making payments to creditors. Creditors give their input on the proposed plan and may also propose a plan of their own. The bankruptcy court is the ultimate decision maker and may approve a plan even if some of the creditors do not. If no plan is approved, the court may order the bankruptcy to be converted to Chapter 7 liquidation or may dismiss it entirely. The choice of which chapter to choose is not necessarily a permanent one because cases may be converted to another chapter under certain circumstances.
Conclusion
More often than not a person will want to reorganize their business when careful analysis will show that the business cannot really be reorganized. Sometimes it is best to close the business or pay off debts that the business owner may be personally liable for.
We do not file cases that do not work. If we believe that your business will not succeed in a reorganization we will advise that it be shut or liquidated in Chapter 7 depending on which is best for you.
To arrange for a free initial consultation with NY bankruptcy attorney at Michael H. Schwartz, P.C., call us toll-free at (800) 666-9743 or contact us online.