Client Reviews
What can I expect from Michael H. Schwartz, P.C.? We'll let our clients answer that for us:
The best bankruptcy lawyer in Westchester!
Posted by: Joey, February 26, 2016.
Michael Hal Schwartz is the very finest Bankruptcy Attorney in the entire country, in my opinion, and I very highly recommend him.
Posted by: Chapter 7 client, December 14, 2012.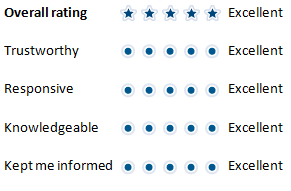 Client Review:
Michael H. Schwartz was my Bankruptcy Attorney in a Chapter 7 case, which was recently very successfully concluded. Because of Michael H. Schwartz's skill, knowledge, and dedication in his work, I am now completely debt free and all my credit card debts were completely discharged. I was extremely happy with the way in which Mr. Schwartz handled my case with great knowledge and compassion, and I very firmly feel he is a brilliant attorney. I think he did an absolutely amazing job, and cannot imagine anyone more dedicated to his work and client relationships than he was. Mr. Schwartz always puts his clients first, and had always taken great pains to answer all my questions and put my mind at ease. There is no doubt that I would gladly recommend Mr. Schwartz as a Bankruptcy Attorney to anyone who was in my prior straits.
Mr. Schwartz has helped make the entire experience painless and seamless, and always took the time to bolster my self confidence. He explained in great detail all the ins and out of the entire procedure as needed. I must say that Mr. Schwartz most thoroughly prepared me all the way through to the final court session with the Trustee of the Court. As well, he has a terrific sense of humor that always put me at ease and built up my confidence at every point in the entire proceedings. I feel blessed to have had Mr. Schwartz by my side throughout the entire bankruptcy and felt very secure under his guidance. I also feel that his fees were extremely reasonable considering the amount of time and effort he put into my case. Again, I would easily rate Mr. Schwartz 5 stars and much much more as a Bankruptcy Attorney, and I would very highly recommend him to any individual in need of an absolutely superb Bankruptcy Attorney!
---
Best Lawyer Ever!!
Posted by: Alma, a Chapter 7 client, December 22, 2011.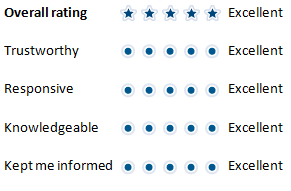 Client Review:
From the beginning, Michael made the experience of filing for bankruptcy accessible and easy to understand. I instantly trusted him and his team, especially Amy who was a tremendous help with all my questions and with taking care of all the paperwork involved. The process was quick and all responsibilities on my end were handled effectively with their help. I recommend Michael without exception.
---
Michael Schwartz truly cares about his clients!!!
Posted by: Steven, a Chapter 7 client, December 20 , 2011.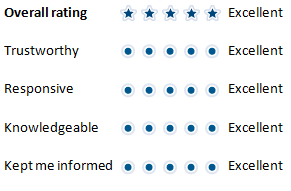 Client Review:
Michael Schwartz is a very professional and respectable attorney. He was very detailed in explaining what my options were and clearly outlined the process. I went to 3 other attorneys, who would not help me (probably because they lacked the experience) and Michael took hours of his time to evaluate my case. He walked me through to the very end, and thanks to his extensive knowledge and experience he has helped me rebuild my life. Please use Mr. Schwartz with confidence and know that he stands by his word.
---
I highly recommend Michael Schwartz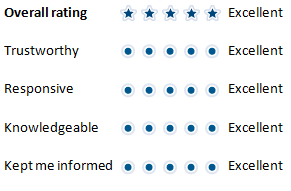 Client Review:
Working with Michael was a true pleasure – he handled our bankruptcy case with professionalism and truly possess the most current and up to date information regarding bankruptcy laws. If it was not for Michael we could have lost our home.
---
Michael Schwartz is a superb lawyer!!!
Posted by: a Chapter 7 client, November 28, 2011.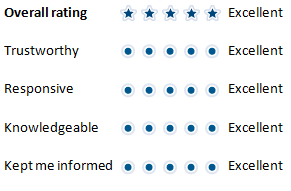 Client Review:
Working with Michael Schwartz and his staff was truly a pleasure. Forced into bankruptcy after a brutal (and costly) divorce earlier this year was one of the most difficult situations I have ever faced. Mr. Schwartz helped me to understand all of my options so that I could make the best possible decisions. He meticulously outlined the pros and cons of every issue throughout the bankruptcy. His professional staff was very helpful along the way. I have now been able to move on with my life thanks in large part to Mr. Schwartz and his dedicated team! I am extremely appreciative for all they have done to help me.
---
Thank You!
Posted by: Jean, a Chapter 7 client, September 30, 2011.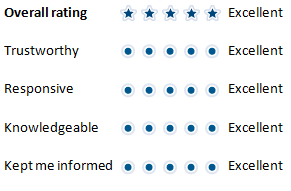 Client Review:
Michael, thank you so much for the professional services you provided!
You and your staff was truly a pleasure to work with. I'm sure you know the stress and strain that some have when it comes to making this decision and you reassured me that it's something that sometimes unfortunately happens and was nothing to feel bad about. That was truly a relief and exactly what I needed to hear. I had consulted with two attorneys before being referred to you by a close friend and they made me feel worse than I was already feeling. I am forever grateful to have been blessed with your services and will gratefully refer you to anyone I know in need of assistance.
Once again, thank you for the Professional Services you provided!
---
Chapter 7
Posted by: Thomas, a Bankruptcy client, September 20, 2011.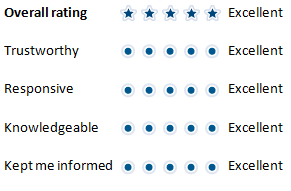 Client Review:
Michael helped us through our toughest times and we appreciated his expertise, honesty and assistance.
---
Michael Hal Schwartz Bankruptcy Attorney
Posted by: Jamie R., a Chapter 7 client, August 16, 2011.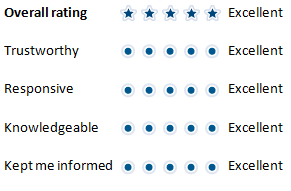 Client Review:
Michael has been very helpful as well as comforting in getting me through the misery of having to file for Chapter 7 Bankruptcy. He is more than just an excellent Attorney I feel we have developed a true relationship as a friend. He not only walked me through the paperwork filing but prepared me for the type of questions that were asked at the meeting with the court appointed representative; I couldn't feel more comfortable knowing that I had Michael on my side throughout the whole process. I can't say enough positive things about Michael except you won't find a better Attorney to get you through a nerve racking experience.
---
Good Attorney
Posted by: Miss Ray2u, a Chapter 7 client, August 14, 2011.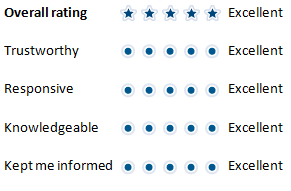 Client Review:
Nothing less than professionalism is what I experienced with Michael Schwartz and his office staff. My questions and concerns were answered in a timely manner. Would I use him for legal services again??? I still have his number in my blackberry.
---
Anna
Posted by: a Business client, June 8, 2011.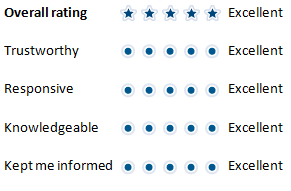 Client Review:
Michael was understanding, very knowledgeable & thorough. His being so thorough enabled us to close our case in one short Hearing. He walked us through unfamiliar territory with patience. He & his Staff were always available to answer a question or give some guidance. Overall, for his legal expertise and excellence, I would recommend Michael Schwartz to my children, my family or anyone who wanted a job well done.
---
Assuring and hopeful experience
Posted by: a Chapter 7 client, April 13, 2011.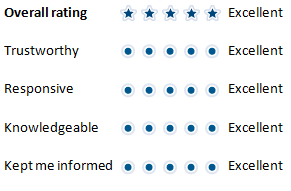 Client Review:
I found Attorney Schwartz just in time. After being laid off since 2007 not only were my finances in vertigo, emotionally I was defeated. My first consultation was with the attorney, which I found impressive because it showed he took my case seriously. During the entire process any questions I had were answered within a reasonable time by either Attorney Schwartz or his paralegal Amy. The mandatory courses were very educational and beneficial. His supporting staff and Amy, the paralegal, were very efficient and knowledgeable as well. My anxiety was dispelled by the time of the filing. I could not have asked for a better legal team, they transformed a very difficult personal matter into an experience of assurance and hope.
---
Excellent Results
Posted by: Linda, a Chapter 7 client, March 25, 2011.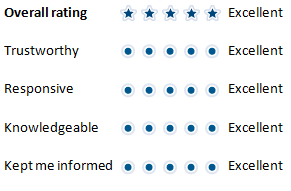 Client Review:
My husband and I brought Mr. Schwartz a very difficult and complex legal bankruptcy case. We knew it would take an exceptional legal team to manage the complicated aspects of our financial situation and work with the trustee in our behalf. We are most pleased to write that Mr. Schwarz handled our case with the utmost professionalism and competence and the outcome he achieved was substantially better than we had even hoped for.
---
Michael was the best
Posted by: a Chapter 7 client, March 8, 2011.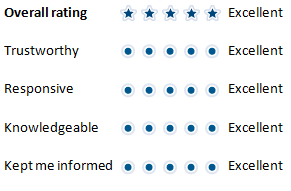 Client Review:
Michael was an outstanding attorney. He handled my bankruptcy. The person in front of me at the hearing had a bad attorney and a lot of problems. I was very worried. Michael was prepared and all the paperwork was in order. I had absolutely no problems. I will recommend him to anyone I know that has financial problems!
---
Michael Hal Schwartz, Esq, P.C.
Posted by: ANNE, a Chapter 7 client, February 2, 2011.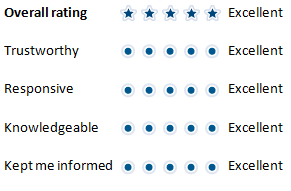 Client Review:
Atty Schwartz, was knowledgeable about my particular situation. He made very constructive recommendations. A very important fact is that his staff is well trained, courteous and available. No question was considered "irrelevant" or a nuisance. This was a "first experience with Bankruptcy", and I did feel a degree of "financial failure". However, both Atty Schwartz and, especially Amy, his Para-Legal, were especially supportive.
---
Great attorney
Posted by: Robin, a Chapter 7 client, February 2, 2010.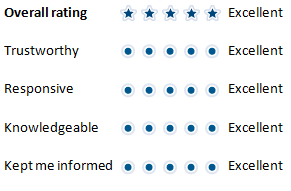 Client Review:
The first meeting with Mr. Schwartz I was impressed by his knowledge and experience. I was nervous, of course, to file but Mr. Schwartz assured me everything would turn out fine and it did. He filed my case quickly and I received my discharge in less than 6 weeks. It was refreshing to find an honest, intelligent and professional attorney who delivered what he promised. His office is staffed by courteous, caring and empathetic people. If you are considering filing for bankruptcy, go with the best. I would highly recommend Mr. Schwartz's services.
---
Light in The Dark
Posted by: a Chapter 7 client, January 31, 2011.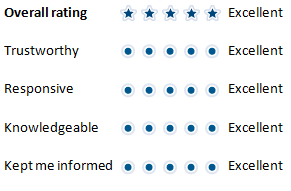 Client Review:
Michael H Schwartz and his associates from our very first meeting were Professional, direct, informed and so very patient as to our needs and anxiety. Once we became clients Mr. Schwartz and his legal team guided us thru the legal shoals of our case. Enough cannot be said about the constant interplay of communication among everyone in his office, affording us as clients the security of knowing if there was a question one could not answer at the moment …"a we'll call you back soon with the answer"… was given us… and the call was returned with answer as promised. His is a legal office that we would recommend confidently to anyone in need of his Bankruptcy expertise. At the end of our first meeting, we told Mr. Schwartz "we are standing in front of a very dark forest and you are holding the candle to light our way".. . he led beautifully.
---
Review of Services
Posted by: Erica, a Bankruptcy client, December 31, 2010.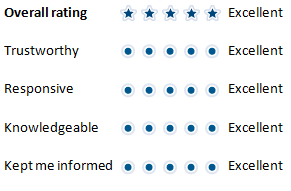 Client Review:
I had never done bankruptcy before (I was a legal secretary for over 30 years but never in this field) and was very nervous and scared. Mr. Schwartz and his staff took away all my fears and helped me through this proceeding. After the first meeting, I signed on to have him represent me. All questions regarding procedures and legalities were answered promptly and explained in "layman's" terms so I could understand what was going on. Also, having health issues it was imperative that I go through this procedure so I could concentrate on my health and not the debts that I incurred after becoming ill, and the stress that it was causing.
---
I've used Michael Schwartz and don't regret it.
Posted by: a Chapter 7 client, March 16, 2010.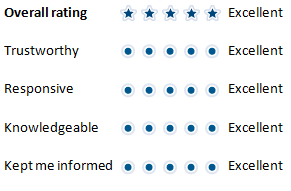 Client Review:
He's great. For the time I work with me, I found him to be very trustworthy and knowledgeable. I'm glad I found him as a lawyer. My case was well prepared and everything was done in a timely and effective manner.
---
New Lease on Life!
Posted by: Joanne, a Chapter 7 client, March 16, 2010.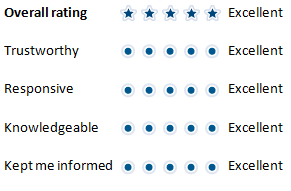 Client Review:
I was a recent client of Michael's. He and his staff at White Plains were very diligent and tenacious throughout the entire process. He said that he hasn't lost a case yet and it's quite true, He fought for me every step of the way. I have already recommended him to friends considering bankruptcy.
---
Excellent Lawyer ~ Highly recommend
Posted by: Caroline, a Debt Agreements client, February 3, 2010.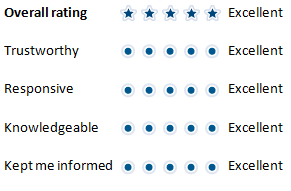 Client Review:
I highly recommend the Law Services of Michael H Schwartz. He was very professional and VERY knowledgeable. He kept me up to date throughout the whole procedure. Both Mr. Schwartz and his staff were excellent. I would highly recommend then to anyone.
---
Excellent Attorney For Bankruptcy

Posted by: JEFFREY, a Chapter 7 client, January 28, 2010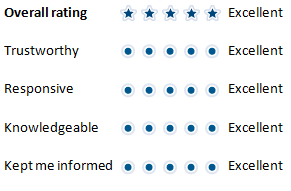 Client Review:
Michael is an attorney in a league of his own. As a single father who was deep in debt and not able to breathe he has let the sun come into mine and my children's lives once again.
---
Review of Michael Hal Schwartz
Posted by: Steven, a Bankruptcy client, October 9, 2009.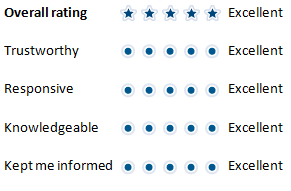 Client Review:
Mr. Schwartz has been my legal counsel twice. He has done a fantastic job each time. He and his staff are very professional and made me aware of every detail needed when I went to my court proceeding. I would highly recommend Mr. Schwartz and feel anyone that he represents is a lucky person!
---
Michael H. Schwartz Review
Posted by: a Chapter 13 client, March 3, 2009.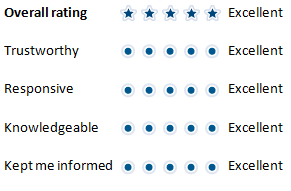 Client Review:
What I liked about Mr. Schwartz is that he does not like to waste time and gets down to the point. Meetings are short but to the point. Most communication with Mr. Schwartz and his associates were done very discreetly, most of the time by email.
I highly recommend Mr. Schwartz.
To arrange for a free initial consultation with NY bankruptcy attorney at Michael H. Schwartz, P.C., call us toll-free at (800) 666-9743 or contact us online.