Foreclosure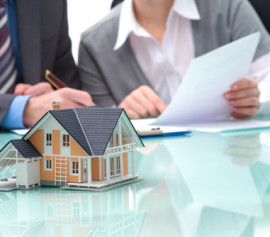 A foreclosure occurs when your lender gets court permission to sell your home in order to pay off your mortgage. The process can take as little as 12 months or less. It begins with the lender filing a document called a Lis Pendens (Notice of Pendency). In English, this means that the lender has a claim against your home and is working to take it away from you.
If you are saddled with debts and afraid that you might lose your home, experienced NY bankruptcy and foreclosure lawyer, Michael H. Schwartz, may be able to help you escape mortgage foreclosure.
"Bankruptcy is your best battleground," Mr. Schwartz says. "If you have a home threatened with foreclosure, we can help you stop the banks."
If you owe more than the house is worth, your best option may be to let the house go. However, if your house does not sell for enough to cover the amount owed on your loan, you are liable for the remaining balance. A Chapter 7 case will allow you to walk away from the house AND owe the lender nothing.
Our firm knows how to deal with the intricacies of mortgage foreclosure in the bankruptcy setting. Here's how:
By filing for a Chapter 13 or Chapter 11 bankruptcy the NY bankruptcy law firm of Michael H. Schwartz, P.C., will STOP the lender from foreclosing. The foreclosure process will come to a halt. The lender will NOT be able to continue with the foreclosure. The lender will NOT be able to sell your home.
YOU will now be in control of your home.
After the foreclosure is stopped, you will have several options to choose from.
You can repay back the payments that were missed over the next five years.
You can apply for a loan modification that is supervised by a United States Bankruptcy Judge.
(where "You need to resend the documents" Is Not acceptable).
Walk away from your home without owing a dime.
And, in most cases, we can also wipe out your credit card debt.
If your house if worth less than you owe on your first mortgage, we can remove the second and third mortgages entirely.
Filing for a Chapter 13 bankruptcy is a better option than attempting to work things out with the "lender." New York bankruptcy and foreclosure attorney Michael H. Schwartz knows that the person calling you about your debt is not the actual lender, but a servicing company interested in racking up fees. When a person defaults on a mortgage, the servicing company reacts by piling on fees and charges. If the person is miraculously able to reinstate the entire mortgage and able to pay it all off with one check, the new payoff amount will still include all of the levied fees.
"These servicing companies have no incentive to help you save your house from foreclosure," according to Mr. Schwartz. "We don't play their game because we know the rules. They'll run you in circles. All the while the clock is ticking and they're racking up more fees."
As you probably know, when you borrow money from a bank or a lending institution, you secure it with a mortgage on your home. What you may not realize is that if you borrow $100,000, you're really paying back $300,000 on a 30-year mortgage. The bank treats this as a $300,000 asset and sells off the secured transaction to debt buyers at a discount off its full value. The debt buyers then sell the mortgages to debt aggregators who create bond funds out of them and sell them on Wall Street to investors as higher interest bond funds (also known as mortgage backed securities).
Don't believe that the "lender" will work things out with you. Instead, when you find yourself facing mortgage foreclosure, turn to the NY bankruptcy attorney of Michael H. Schwartz, P.C., to help save your home. We'll put you in Chapter 13 and your credit will be no worse. In fact, it will be better because bankruptcy is a superior alternative to foreclosure. Bankruptcy is guaranteed to work as long as you can resume making your monthly mortgage payment and you can pay back the payments you missed over a five-year period. Usually after a year of making the payments, a homeowner can refinance with a reputable company and get a lower interest rate.
Are your workout negotiations with your lender going nowhere?
Not surprised. But we can make it go somewhere in bankruptcy court. Under the Loss Mitigation Program available in the Southern District of New York (Westchester, Rockland, Putnam, Dutchess, Orange, Sullivan, & Manhattan and the Bronx), we can Request a Court Supervised review and modification of your loan.
By way of example, we have successfully reduced a 7% mortgage on $580,000.00 down to only 2% for 5 years, 3 % for 1 year and 4% for the life of the loan, AND placed almost $200,000.00 in arrears at the end of the loan.
Facing a home foreclosure? Run, don't walk to NY foreclosure lawyer Michael H. Schwartz, P.C. Contact us online today.
Michael H. Schwartz, P.C.
1 Water Street
White Plains, NY 10601
Phone: 800-666-9743
(800) On My Side
Fax: (914) 997-0536
To arrange for a free initial consultation with NY bankruptcy attorney at Michael H. Schwartz, P.C., call us toll-free at (800) 666-9743 or contact us online.