Michael H. Schwartz has never had a bankruptcy discharge denied.
Mr. Schwartz goes the extra mile in his fight to defend his clients. He is the Co Chair of the Westchester County Bar Association Bankruptcy and Creditors Rights Committee. He is a sustaining member of the National Association of Consumer Bankruptcy Attorneys, the national organization dedicated to serving the needs of consumers and their bankruptcy attorneys and protecting the rights of consumer debtors. Mr. Schwartz is a graduate of the famous Max Gardner's Bankruptcy Boot Camp and a graduate of Max Gardner's Veteran's Boot Camp in Advanced Bankruptcy litigation and securitization where he learned new tactics and strategies for defending people's homes from foreclosure. Wondering whether bankruptcy is right for you? The NY bankruptcy attorney of Michael H. Schwartz, P.C. is committed to supplying you with the information and services you need to secure a better financial future. To arrange for a free initial consultation with a lawyer at Michael H. Schwartz, P.C., call us toll-free at (800) 666-9743 (800-On My Side) or contact us online.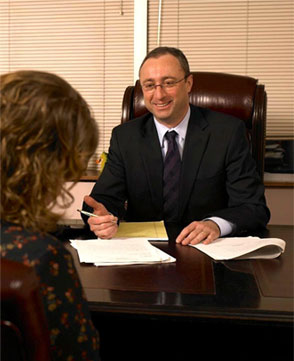 "We have helped thousands of people preserve their families, save their homes, their possessions, their jobs and their dignity."
Mission Statement
"Getting you back on track, one step at a time."
Our focus and passion are bankruptcy and foreclosure defense cases. The New York bankruptcy lawyer Michael H. Schwartz knows how to deal with every aspect of insolvency and foreclosure. We're familiar with every aspect of debtor and creditor issues in and out of a bankruptcy setting. We can help you with everything from wage garnishment to mortgage foreclosure.
Michael H. Schwartz, P.C.is the largest filer of cases for people living in Westchester and Rockland Counties.  In any given year, our NY bankruptcy law firm will file 200 or more bankruptcy cases.
There's a good reason for that, Mr. Schwartz says: "My firm has earned a reputation as the most aggressive in standing up and fighting creditors and lenders."
New York bankruptcy lawyer Michael H. Schwartz has filed over 4,000 cases. Don't take our word for it. Check it out for yourself at http://www.pacer.gov/.  Set up an account and run a report for Michael H. Schwartz as the attorney and you'll see over 2,400 cases filed since 1998, the year PACER went on line. And Michael H. Schwartz has been filing cases since 1986,  12 years before PACER went on line.
Endorsements by Fellow Attorneys
Michael H. Schwartz, P.C. is the expert in consumer bankruptcy. Michael H. Schwartz has been referred to by his colleagues as:
"The King of bankruptcy."
"The Master."
"He is a consummate professional and an expert in the bankruptcy arena. Very few lawyers understand consumer bankruptcy law the way Mr. Schwartz does."
"Michael Schwartz is an excellent lawyer. He is knowledgeable and is one of the brightest lawyers around."
"I know him to be a first-rate, highly competent attorney. I will continue to refer cases to him."
"In the lower Hudson Valley, Michael is the person to see if you need representation in the Bankruptcy Court."
"Michael is an amazing lawyer with a firm grasp of the law and the innate ability to apply common sense to challenging fact patterns."
And, "As usual, Michael's advice is right on target."